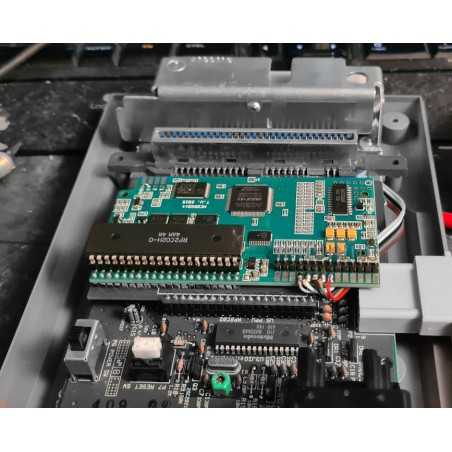  
NESRGB (Tim Worthington)
The best RGB mod for your NES or Famicom (all versions). Latest version of the PCB : 3.0.
Warning : This is the new version of NESRGB kit - version 3.0. Changes were necessary as some parts are currently unavailable due to the semiconductor shortage. Version 3 is functionally identical to version 2 except that it can hold only one palette instead of three. Also please note, this new version is not currently compatible with the  NESRGB-IGR extension board
Tim Worthington created  the best RGB mod for the NES, the Famicom and all its variations. The NESRGB mod bypasses parts of the PPU - RAM palette (color generator), decoder and DAC. The video timing is unchanged, so there is no offset (no framebuffer, no VGA, no HDMI, etc, etc), just a non-interlaced video output at 15 kHz.
Note on the installation :
If you choose an installation, the shipping fees that will be asked will be those of the return of your console once the mod is done. If you choose this option, an email will be sent to you with the shipping details to send us your console.
NESRGB-IGR: The IGR kit allows you to change the colour palette from NESRGB using the controller. It also allows you to Reset with the controller.
Wireless kit: The wireless kit allows a wireless installation between the NESRGB and the video output. The wires are replaced by a FFC type cable. For a EU ou US NES, it also comes with an SNES type connector. This kit is not compatible with the Twin Famicom or the original Famicom. More details here: https://www.youtube.com/watch?v=AJoUfrthkR8
Customers who bought this product also bought:
4 other products in the same category: