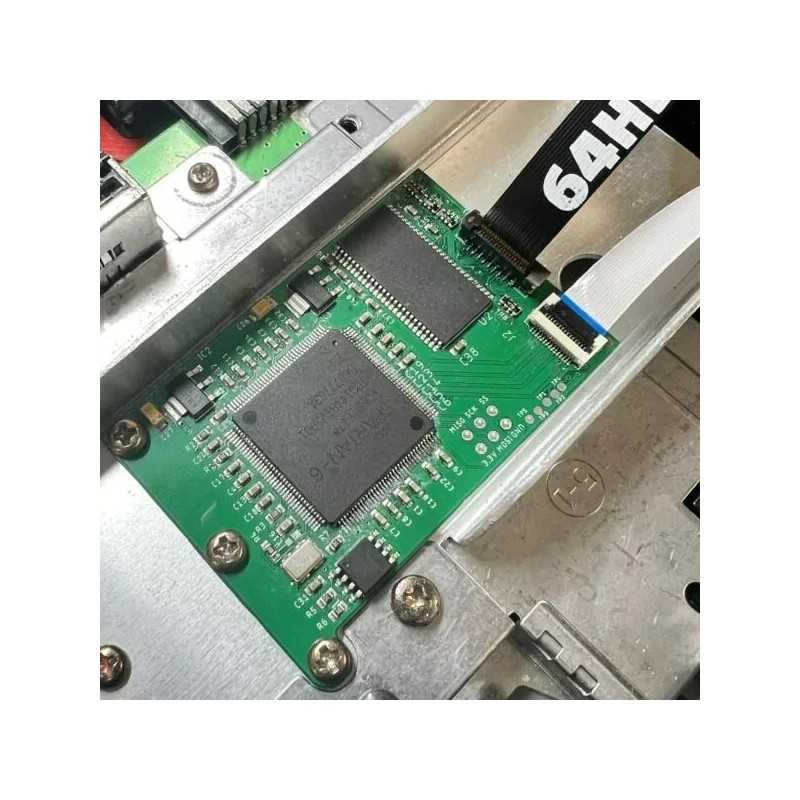  
64HD [Gamebox Systems] (HDMI port for Nintendo 64)
Give your 64 the HD treatment with this DIY HDMI upgrade kit from Gamebox systems, which includes everything you need to get digital out from your Nintendo 64 via a HDMI port, and with no cutting of the console shell!
Included in the kit:
64HD PCB
HDMI Daughterboard
Booster Bracket
Quick solder flex cable
No-cut A/V Shroud
Foam Adhesive Pad (for N64 motherboard revisions NUS-CPU-06 through NUS-CPU-09)
Features:
Compatible with all N64 models - PAL & NTSC
Supported Resolutions: 1080i60, 720p60, 480p60, 240p60
Scaling Modes: Integer 1:1, Full Screen non-Linear, Non-integer linear, Overscan
VI Deblur, Brightness Control, 3 Pixel Filter & 3 Scanline Modes, settings saving
Requires good soldering stills to install, with micro soldering required.
Description:
The 64HD HDMI digital out mod from Gamebox systems adds modern HDMI connectivity to your retro N64 console, plus a whole range of additional features to give you an enhanced gaming experience. The mod primarily helps you to attach your Nintendo 64 to a modern TV, but it does so in a way that provides the very best possible picture, tapping directly into the motherboard for a digital signal, rather than using the traditional analog AV out.
PLEASE NOTE: This mod is not compatible with the FRA N64 (sold in France only).
INSTALLATION GUIDE HERE
Customers who bought this product also bought:
9 other products in the same category: